ROUTE 670 BRIDGE REPLACEMENT: The Route 670 (Green Spring Church Road) bridge in Washington County is closed for replacement. Route 658 (Lombardy Road) will serve as the detour route during construction. The bridge is located just east of Route 75. (Completion: Fall 2019)
INTERSTATE 81 – EXIT 19 BRIDGE WORK: Be alert to nighttime lane closures due to bridge work on Interstate 81 at Exit 19 in Abingdon. Use caution in this area and pay close attention to signs and message boards. (Completion: March 2020)
WATER STREET BRIDGE CLOSURE: Due to recent bridge inspection findings, the Virginia Department of Transportation has closed the Route 1203 (Water Street) bridge in Damascus. The bridge is located across from the Damascus Public Library and crosses Beaver Dam Creek.
ROUTE 11 (LEE HIGHWAY) PAVING: Be alert to paving on Route 11 (Lee Highway) in the Glade Spring area. Pay close attention to work vehicles and flaggers, and also be alert to the possibility of delays.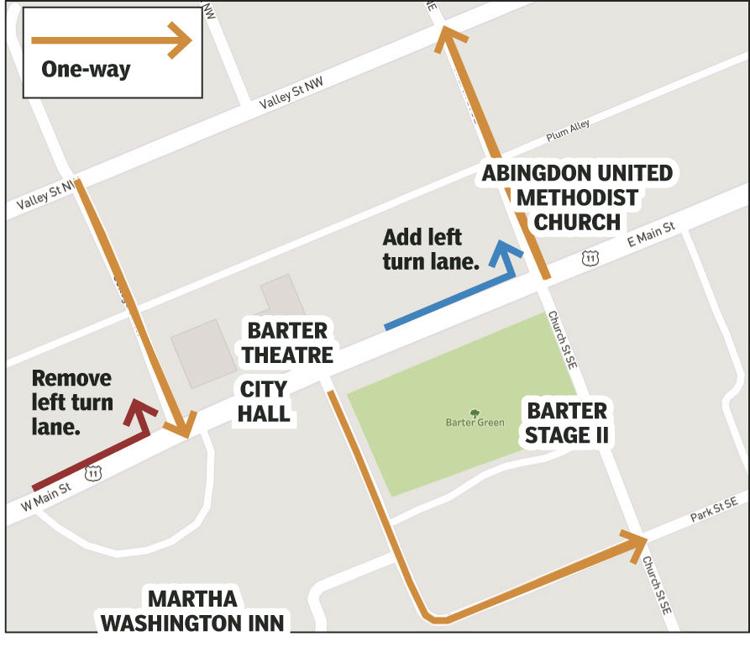 Beginning Oct. 11, College Street will become a one-way street south from Valley Street to Main Street. Also beginning Oct. 11, Church Street will become a one-way street north from Main Street to Valley Street. Changes will also include relocating the lefthand turn lane from Main Street at College Street to Main Street at Church Street. Additional street parking will be located in the affected area. The town urges motorists to use caution when driving in this area and to pay particular attention to new traffic patterns. Questions can be directed to Michael Surrett, public works inspector, at msurrett@abingdon-va.gov or 276-628-3167.