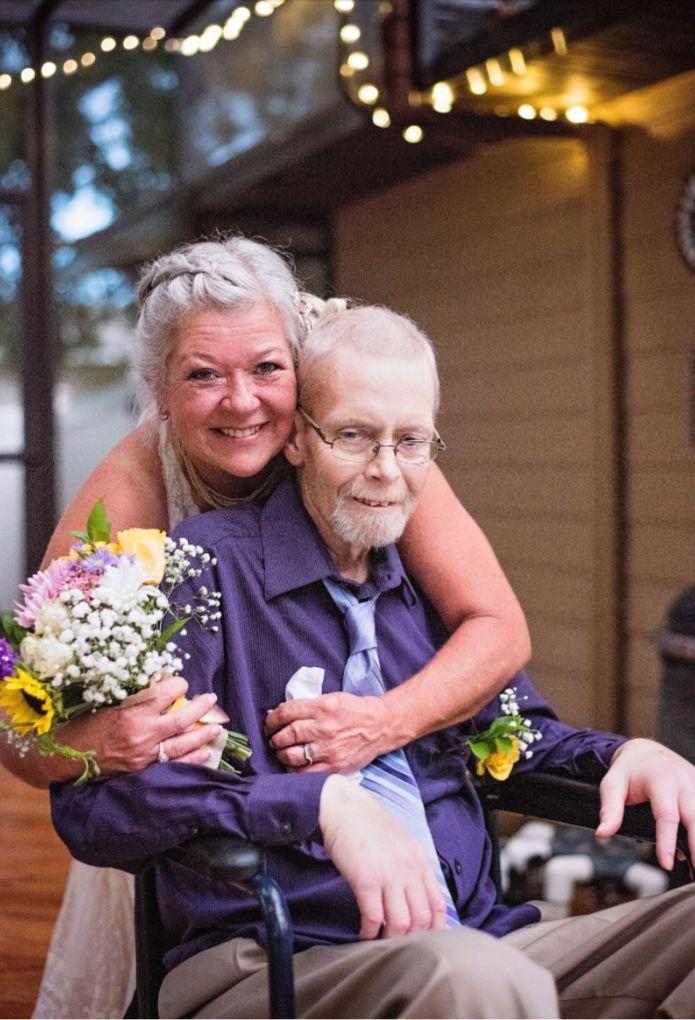 Wythe County native Lloyd "Peanut" Tomlinson wasn't a dull man. He spent time in the U.S. Army and in the Marines, worked as an aircraft mechanic, coached little league sports, and was working on getting his pilot's license when he passed away in July.
His accomplishment list was long, indeed, but Tomlinson had one more thing to check off that list.
He meant to marry his longtime sweetheart, Anita.
On July 25, at their home in Edgewater, Florida, just two days before Lloyd lost his battle with esophageal cancer, the Tomlinsons wed.  
"It was bittersweet," said Lloyd's son, Chris Tomlinson, who stood by his father's side at the wedding as best man. "I'm just extremely glad I was able to be there for it."
Lloyd and Anita first met while Anita was still in high school. They dated briefly during her senior year, but the couple soon drifted apart, though they remained good friends.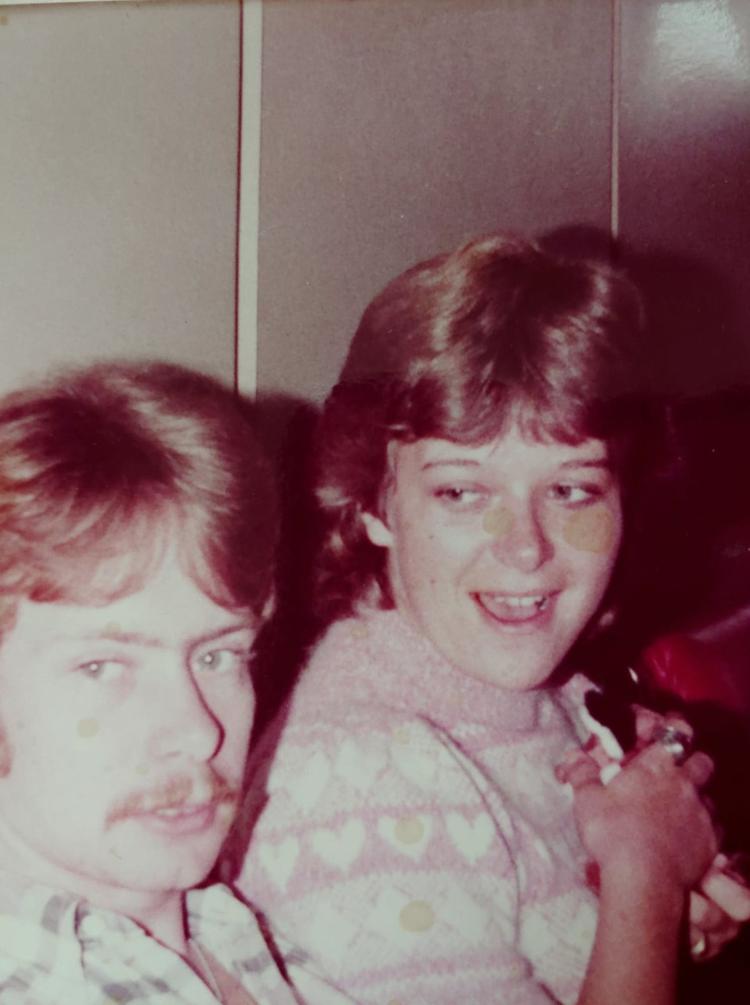 Growing up in a military family, Lloyd spent time abroad, living in Germany during his youth.
"He loved to travel," Anita said. "I know he loved Germany and wanted to go back because he had such a pleasant experience there."
Anita believes that love of travel had something to do with his decision to join the Army when he became an adult.
 After his Army stint was up in the mid-1980s, Lloyd became one of only a handful of Army servicemen to retain his Sergeant rank when signed on with the Marine Corps, where Anita had enlisted just a year before.
Though the two would marry other people during their shared time in the Marines, they lived in the same subdivision and remained close friends, visiting with one another's families and arranging play dates for their children.
Sometime after the Marines, the two drifted apart again. Lloyd would come back to Wythe County to raise his children, Chris and Jennifer. Back home, Lloyd considered going into education and began working on a degree. During that time he served as a substitute Physical Education teacher at Sheffey Elementary School and coached little league football and basketball.
"He coached me from the time I was old enough to play tackle football until he couldn't be the coach anymore," Chris said.
Chris and his father shared a love of sports, particularly professional football.
 "During the summer, we were talking about being ready for football to come back and during the season, we watched every game we could," Chris said.
He recalled his father being a Minnesota Vikings fan. "I'm not sure what drew him to them, but my entire life was spent watching Viking games until I was out of the house."
Later on, Lloyd moved to Alabama and became an avid Crimson Tide fan.
Lloyd still lived in Alabama in 2010, when he returned to Southwest Virginia for a visit. At the time, Anita lived in the Thomas Bridge area of Smyth County and worked in the finance department at the Blue Ridge Job Corps.
On New Year's Day that year, Lloyd tried to round up a group of friends from the area for a reunion of sorts at Macado's in Marion.
"But there was an ice storm," Anita recalled. "And it just ended up being me and him and his kids there."
Anita then visited Lloyd in Alabama, where they celebrated Jennifer's 21st birthday. It didn't take long until the pair began seeing each other again, planning trips to Gatlinburg, about midway from where they each lived, to spend time together.
"You couldn't really call it official dating, but we were seeing each other whenever we could," Anita said.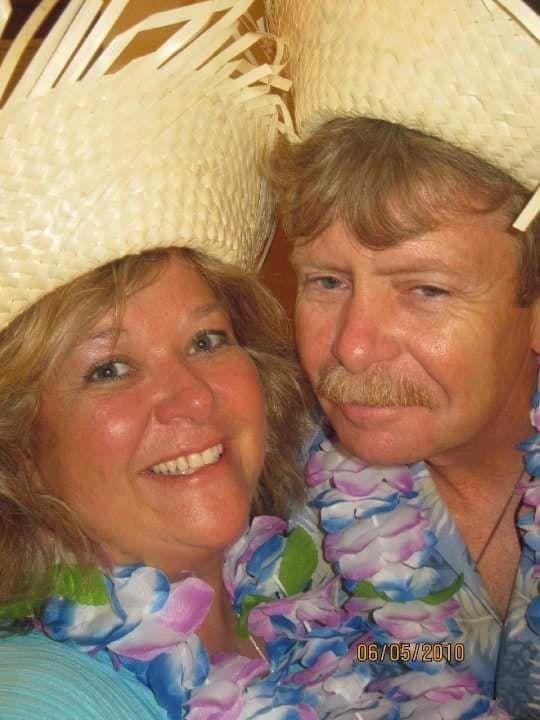 Later that year, Anita got an offer to help start up a Job Corps center in Florida. She accepted.
As luck would have it, Lloyd was also able to transfer to the Sunshine State where he worked as an aircraft mechanic specializing in helicopters. His love of aviation also propelled him to try for his pilot's license, though he was still in training when he passed.
Though Anita's daughters butted heads with Lloyd at first in typical step-parent/step-child fashion, they say it was inevitable he would find a place in their hearts.
"I was so determined to hate him, but we were the same person—stubborn, hard-headed," said Anita's youngest daughter, Jami Witherspoon. "We butted heads on everything, but whenever we warmed up to each other, I loved him to pieces and we knew how happy he made our mom. He was just the missing piece of the puzzle and he just completed our family."
"To know him was to love him," said Anita's oldest daughter, Cassi Rountree.
Ever since Lloyd and Anita rekindled their relationships in 2010, Lloyd talked about wanting to marry Anita.
Anita was initially against the idea.
"Basically, I told him I'm a terrible wife. I suck at being a wife. I've been married twice and I was just adamant that I was a terrible wife."
She eventually came around though. "He had been so patient, so persistent. After 10 years of being together, living together, he could put up with my little quirks and nuances and vice versa. We just complimented each other. He was definitely the one."
Serious wedding talks came last year and in January the couple began to make plans. They'd marry during a fall ceremony on the beach. Still loyal to Alabama football, Lloyd was shooting for an early October wedding to coincide with the team's bye week.
"We always joked about people getting married on football days and how much we wouldn't want to do it," Chris said. So that came as no surprise to him.
Just a month after they'd began planning, Lloyd was diagnosed with esophageal cancer. Despite attempts to treat the disease, Lloyd's condition worsened.
During a hospital stay in July, the couple decided to move the ceremony up while family was already in to visit him.  
"I kept asking, 'are you sure you want to do this,' and he said, 'there's nothing in the world I want more than this,'" Anita said.
Anita and the six children the two had between them scrambled to make the wedding happen. The couple would marry on the pool deck at their home, since they couldn't be on the beach.
"It was, in my opinion, one of the most moving and special ceremonies I've ever seen, much less been a part of," Anita said.
Leora Witherspoon, another of Anita's daughters, believes the ceremony was simply meant to be.
"It was supposed to storm all day and it was it was going to be an outside wedding."
An hour before the ceremony, a downpour came, she said.
"But it stopped two minutes before everyone went outside. Then the second Peanut started getting tired from pictures after the wedding, the sky opened up. God stopped the rain long enough for us to do what we were supposed to do."
The Tomlinsons were married just two days when Lloyd passed on July 27. He was 58 years old.
"He held on long enough to do the one thing he wanted to do and then he was ready to let go," Anita said, her voice cracking.
Friends and family gathered in Wytheville on Saturday, August 10 for a Celebration of Life service.  
Anita said her husband will be remembered by those who knew him best for his good-natured love of life, love of fun and wisdom beyond measure.
As for Anita herself, she'll always remember him as, "the man, the marine, the love of my life."