Family hopes community initiative can preserve piece of Washington County history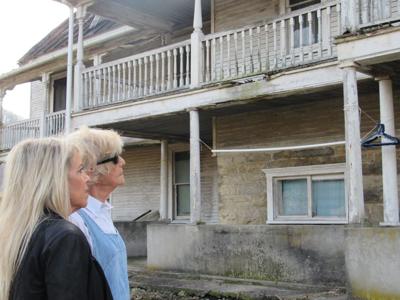 BRISTOL, Va. — A Washington County woman is hoping her love of things from the past will spur a community movement to restore a historic landmark in the Benhams area of the county.
Sally Anne Mumpower Heltzel and her daughter, Ginny Shaver, have created a GoFundMe account as a way to help restore a vacant farmhouse that has been in the family for more than 100 years. The structure is believed to be one of the oldest houses in Washington County.
"This homeplace is a landmark for the Benhams community, and it's so very sad to see the condition that it rests in today. We have come to realize the only way that we can restore this is to ask for help," wrote Heltzel last year on the online fundraising site.
So far, the mother and daughter project has only raised $30 with a $550,000 goal.
"We're not giving up," said the 78-year-old woman with a mist of tears in her eyes. "We hope more people will decide to help once they learn this landmark is right in their own backyards.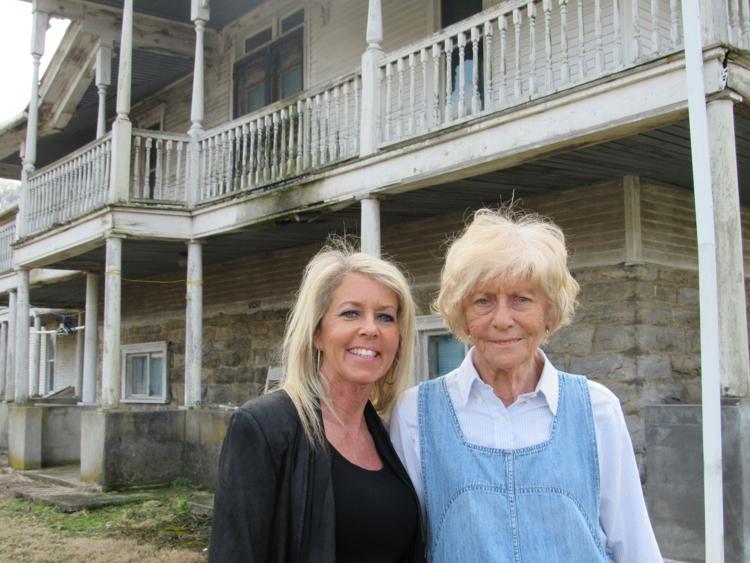 "It is truly overwhelming and heart-wrenching seeing this house the way it is now compared to when our ancestors first built their family home," she said. "In its time, it was considered modern and a bit of a mansion."
The restoration project is an emotional one, especially for Heltzel, whose grandfather William Hancher Mumpower, a Civil War veteran, built the wood-frame, two-story house for his family of six children from 1903 to 1906. A photograph of two of the children who died as infants still hangs on a wall in the house.
According to Heltzel, Mumpower was a prominent figure in the community and an excellent carpenter, farmer and miller for many years. He also dealt in real estate.
"It's a little unnerving for some people to learn that my grandfather died in the house and was embalmed there," said Heltzel with a tinge of excitement in her voice.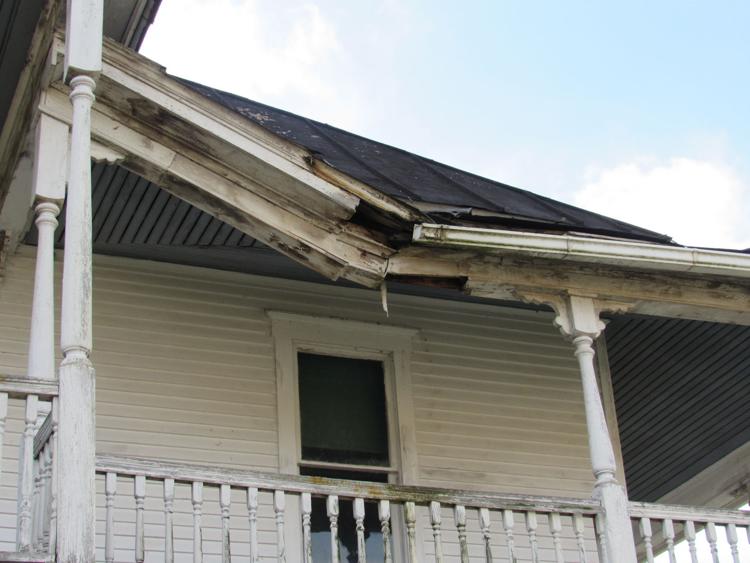 The last habitant was Heltzel's aunt, Bailey Mumpower, who never married and lived in the house until her death in 1993.
Since then, the ravages of time and numerous acts of vandalism have left the house in dire need of repairs in order to bring the house back to its original condition.
The mother and daughter say the restoration project is left to them since they have no close relatives in the area. "Many of our distant relatives moved away years ago," she said.
"There are many family names associated with the house — Booher, Mumpower, Smith and Moore," said Heltzel. "But we're the last of the kinfolk."
Their dream of fixing the house includes repairing the foundation, replacing the roof, repairing porches, replacing wiring and installing a security system, in addition to sprucing up walls and floors.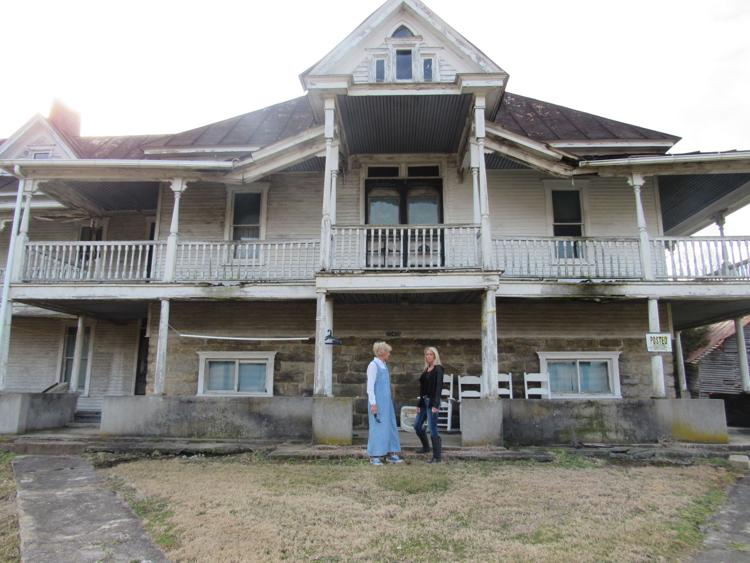 "We would also like to fix the old spring house and washroom behind the house, where they washed clothes on an old wringer machine and by hand," said Shaver.
"We have gotten estimates on restoring the property, and with all the damages, we're figuring somewhere around $550,000 is needed to restore this place," the daughter said.
"That's a lot of money, and that's why we need help. There is no way we can do this alone. It costs so much more to restore than to build brand-new again, but this is history that we want to preserve," Shaver added.
"We don't intend to make a dollar off of this project," added her mother. "We just want to preserve it for the future. I'm just that way. I love to preserve history."
The elder woman said once the house is restored she hopes to convert it into a museum, of sorts, allowing the public to tour the early 1900s structure and learn about the way people lived back then.
"It will be an asset to the community because this landmark will come alive for people to enjoy for years to come," Heltzel said.
"This house has a lot of memories to share. I want the house to serve as a living memory for future generations to learn about the past.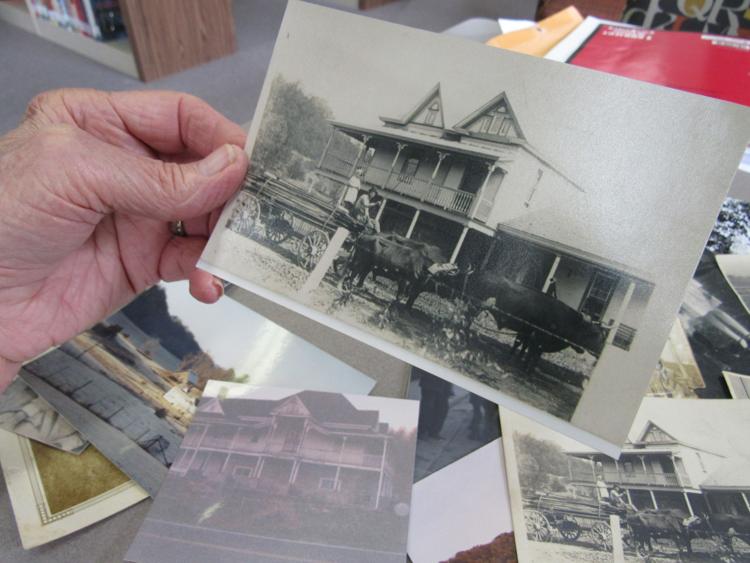 "Very few days in my childhood went by that I didn't visit that house. My family lived in a house across the road, and we took our milk over there and stored it in the cool springhouse in the evenings. Meals and late at night were special times for me. I remember watching heat lightning with my granny while sitting on the front porch," she related.
"It used to be quite a showplace. My granny grew flowers and roses down the walk with a rose arbor at the front gate."
The house boasts a large kitchen, dining room, parlor and bathroom downstairs and four bedrooms upstairs.
"Over the kitchen is a garret — a small living space at the top of the house. That's where we aired dried green beans called leather britches," recalled Heltzel.
According to the mother and daughter, some of the original furniture is still in the house, including a dining room table built by her grandfather, a sideboard and a cupboard. A china closet that was hauled to the house on an oxen-driven wagon more than a century ago also would be used if the house is restored.
They would like to furnish the house with smaller original items that came from the house and purchase other period items to expand the exhibits.
"This is what the house looked like before a storm came through in the 1970s and took two pine trees by the house," said Heltzel, as she scattered family photos across a table and began reminiscing.
"I found a roll of film on an old Brownie Hawkeye camera in the house and had it developed. Many of these old pictures are from that roll.
"Here's the front of the house. I always figured my grandfather built all those steps off the front porch for his daughters to walk down when they got married.
"This is my favorite photo of the house when it was fairly new and timber from the farm was being hauled by wagon for some of the construction.
"If this restoration happens, it's going to bring back a flood of memories," said the mother.
"I don't really believe in ghosts, but I've often thought what my grandfather would think if he came back and saw his home in good repair.
"I know for me, it would be a dream come true," Heltzel said.
"I can just see the candles in the windows at Christmas."
Carolyn R. Wilson is a freelance writer in Glade Spring, Virginia. Contact her at news@washconews.com.