For the second time since the Cuban borders were opened for travel by President Barack Obama, Emory & Henry College took 14 new students back to the island. 
Dr. Mark Finney and Mary Bell Boltwood returned to teach the class for a second time. Boltwood said the main goal of the trip, a collaboration between the Spanish and mass communications departments, was to film a documentary detailing the students' time there and showcasing what Cuba is like. 
Emory & Henry students traveled to Cuba in May 2019 for a two-week study abroad program. Read all the stories here.
Before the trip to Cuba, students met for class every other Sunday and were paired into groups. Each group researched a topic related to Cuban culture — everything from food and health care to sports and economics. The students made presentations to share with the class, followed by group discussions. Then the groups practiced shooting film for the documentary.
Boltwood emphasized that the class was about more than just going to Cuba; it was also about finding new perspectives.
"Even if it's only for two weeks, to be exposed to something that is so radically different — but yet have so many commonalities — that's what we wanted the students to see," said Boltwood. "Humans are humans anywhere, and they might have a different form of government, but we're all just humans, and we relate to each other similarly, and we have the same ambitions."
Boltwood also said the academic aspect of the class would be just as important as the trip itself.
"It's not just a tourism trip," said Boltwood. "Without the academic part leading into the trip, I don't think it would've been as meaningful. We're not just here as tourists but to have that educational base before we came that would provide the cultural information."
According to the E&H website, the school offers study abroad opportunities in locations from Asia, Africa, Europe, Australia and others. Since Cuba has only recently been added to the list, students now have more opportunities to visit the once-inaccessible country.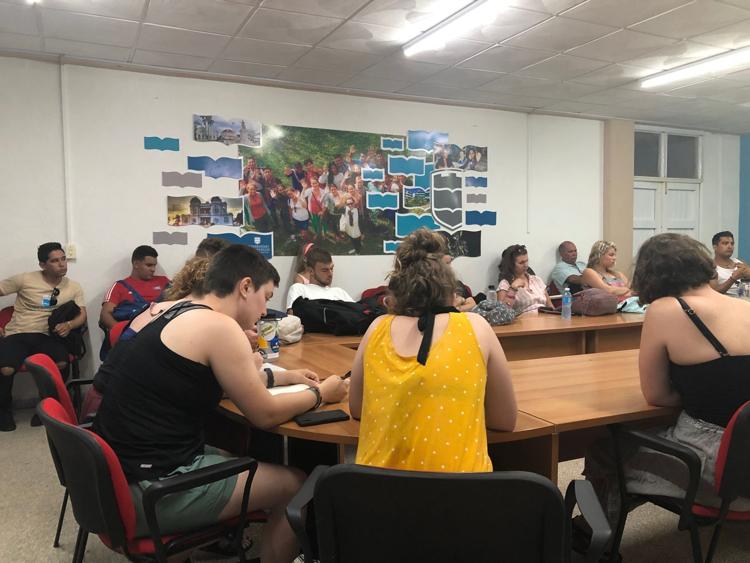 For rising senior Elise Harvey, the class was the perfect opportunity to visit Cuba.
"Cuba seemed like a once-in-a-lifetime chance," said Harvey, who is a music major. "I had heard great things from the students who had gone previously, and I was interested in the descriptions of the activities we would be doing while abroad."
The activities varied in different cities where the students visited or stayed — Havana, Cienfuegos, Trinidad and Viñales. Before the activities began, students had class in the mornings that lasted about two hours. After class ended, students then met up with their tour guides to visit sites such as the Museum of the Revolution and the Che Guevara Mausoleum, hike the landscapes, visit tobacco plantations and more.
Harvey said the activities involving the outdoors in the more rural areas were her favorite parts the trip.
"I loved hiking and going to the waterfalls and visiting the tobacco plantation," said Harvey. "The landscape in Cuba was so incredibly beautiful, and I loved spending time close to it."
Another student, Mackenzie Bellimam, has been to other places around the world and could have chosen a place she was already familiar with, but the opportunity to go to Cuba was too good to pass up. Her reason for choosing Cuba dealt with her major.
"This trip seemed like the most thought-provoking and boundary-pushing experience of a lifetime as a student at Emory & Henry College," said Bellimam, who is an environmental science major. "I was intrigued by the environmentally influenced aspects of Cuba, such as agriculture, climate change impact and urban and rural development."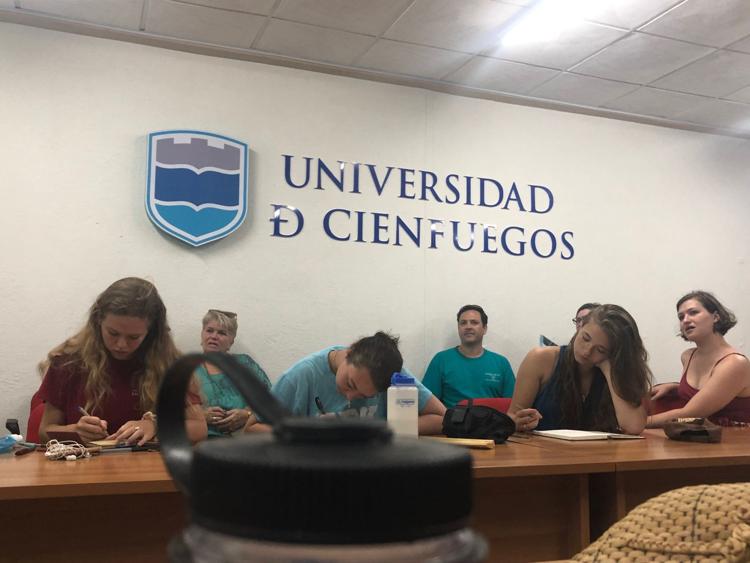 "This trip was the perfect opportunity to expose myself to all of the following experiences. I wanted to learn about these topics in an objective setting and retain as much information about this before completely immersing myself in this culture," she said.
Like Harvey, Bellimam's favorite activities were the hikes the students took. No matter where they were, whether it was Las Terrazas, Trinidad, Viñales or Cienfuegos, "each region offered some of the most breathtaking views" that she had ever seen, she said.
Bellimam's brother, Jack, also accompanied her on the trip. Like his sister, the opportunity to visit Cuba was an offer he couldn't refuse.
"I have always been somewhat interested in visiting the island nation, and this was probably going to be my best bet to do so," said Jack Bellimam, who is a double major in political science and economics. "It's such a unique nation. It has been almost cut off from America for the past 60 years, and it was like stepping through a time machine."
E&H students have a message for any students who have an interest in visiting Cuba but are hesitant to follow through with it, and that message is to go.
Jack Bellimam said that, in order to get the full experience, students have to be dedicated to the academic part of the class.
"I would recommend to future students that would be interested in taking the course that this isn't just a vacation; this trip is a learning experience. … You need to fully be committed to the school aspect," said Jack Bellimam. "If you go in with a mindset that this is only for fun, you will not gain anything from this trip and will have just wasted your time."
"I would encourage anyone who gets the chance to go and see for themselves," said Harvey. "The country is beautiful, the people are wonderful, and the history and culture are ones that deserve more attention."
William Seidel is an Emory & Henry graduate with a degree in mass communications.