CIENFUEGOS, Cuba — With food shortages being reported all over Cuba, students on Emory & Henry's study abroad trip were faced with the reality of temporarily living without food at their fingertips.
Emory & Henry students traveled to Cuba in May 2019 for a two-week study abroad program. Read all the stories here.
Eating opportunities for students at E&H are usually not limited. Students can enjoy breakfast, lunch or dinner at the school's cafeteria, Stinger's Café, or the Wow Café, which is known to students and faculty as "The Hut."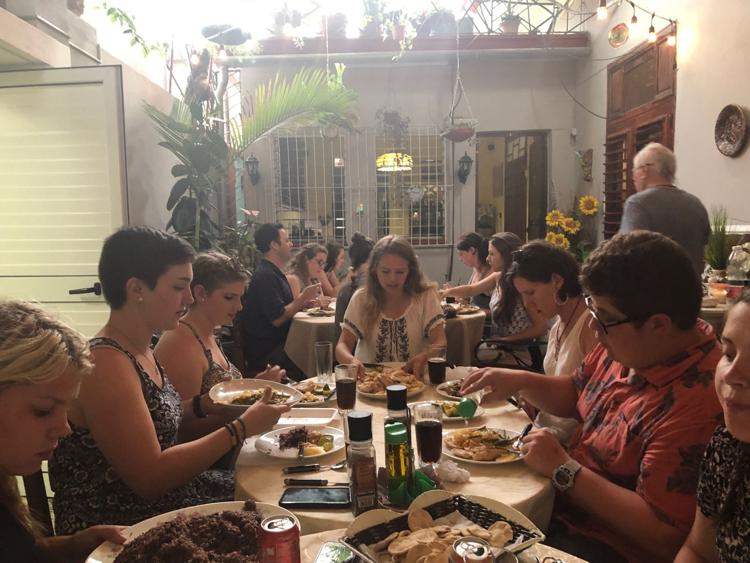 Once those hours are over, students can still find food at other locations, such as McDonald's, Wendy's, Subway, Macado's and many other restaurants on or near campus. They can also shop at grocery stores or gas stations that stay open 24/7 to pick up snacks or have a meal. Simply put, students and Americans in general have an abundance of food opportunities not available in Cuba, which struggles to provide enough food for its inhabitants.
Sylvia Rozwadowska, one of the tour guides for the E&H students and faculty on the trip to Cuba, is familiar with Cuba's food crisis, having visited over 20 times.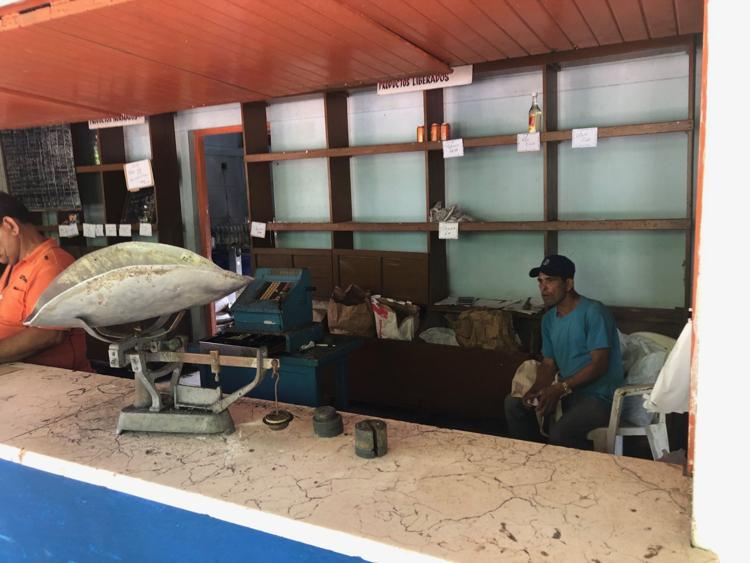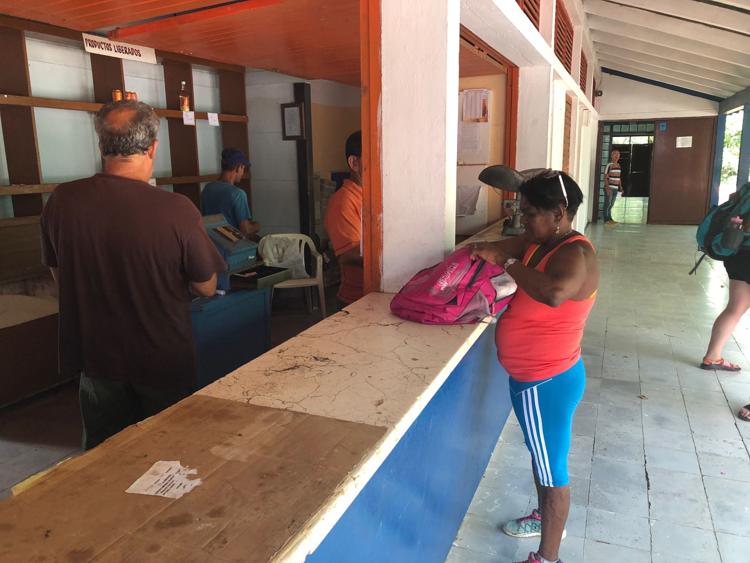 "As a result of mismanagement and the embargo, 90% of food here in Cuba is imported, and it is very expensive," said Rozwadowska, who has visited 56 different countries as a tour guide. "Most Cubans will probably tell you that they don't have enough meat, [and] the good quality meat is too expensive, such as beef, lamb, pork and others."
The U.S. has enforced a long-lasting embargo on many Cuban imports since Fidel Castro's government came to power in 1959. President Barack Obama eased some of the restrictions on travel and imports, but many of those sanctions have been revived by President Donald Trump.
Rozwadowska said the most recent shortage in Cuba was chicken. All the chicken that is available goes straight to restaurants for tourists, and the Cubans have been left without a good source of protein.
"It's different for us because we basically come here and we can have anything we want," said Mark Finney, a faculty member on his fourth visit to Cuba. "If we want pork, we're going to get pork. If we want beef, we're going to get beef. For average Cubans, those options are not available."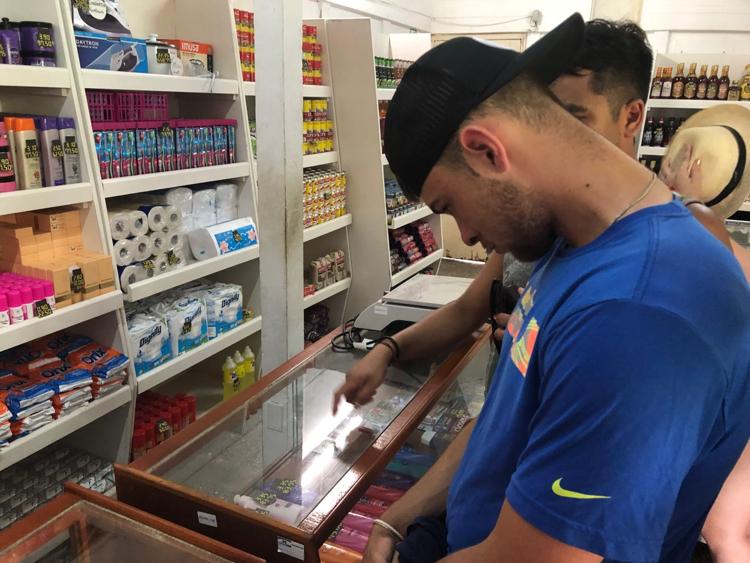 Finney explained that Cubans have rations; every month, they are supplied with enough food to feed their families for a month — made up of beans, vegetables and coffee beans.
According to a May 12 Wall Street Journal story on the latest food shortages, other ration items include "eggs, cooking oil and sausage."
Students saw for themselves just how devastating the food crisis in Cuba can be while visiting local ration markets.
While some marketplaces had food on the shelves, many were completely empty. Some students said they were left shaken after realizing that this was the reality for most Cubans.
"I always took having food for granted. Now I don't think I ever will again," said rising senior Sydney Breiner, who is a political science major. "I remember seeing people outside waiting for rations, and it was like a culture shock."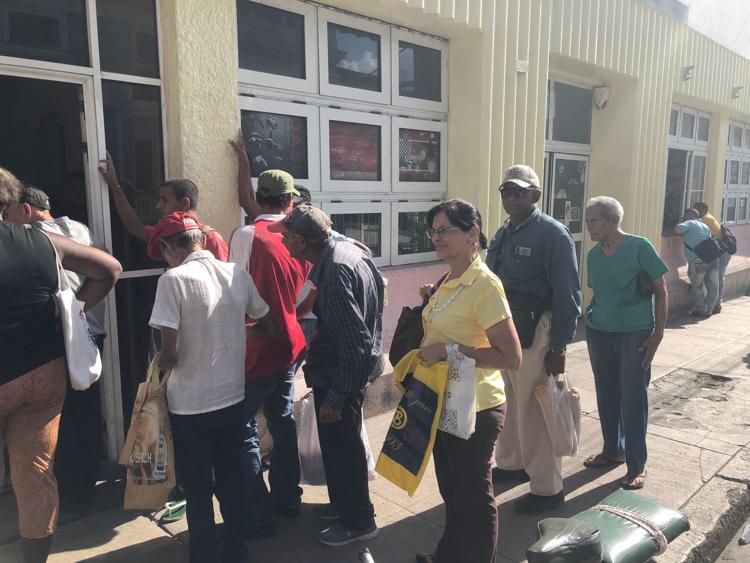 Breiner said seeing people on the streets in Cuba asking for food and water for their families opened her eyes on how privileged she was as an American to have access to food and water at any time.
Breiner noted there were multiple times during the trip where she didn't feel right about eating food that the average Cuban could only dream of obtaining.
"I was shocked, and I felt ashamed. It was very interesting to me that tourists get better food than the citizens," said Breiner. "This made me want to give away my food to the people who really needed it."
Another student, rising senior Emily Bishop, had a similar feeling. When she saw the rationing markets, she said she became very grateful for being able to access to food.
"There was barely anything on the shelves," said Bishop, who is a mass communications major. "It's devastating what it's done to the Cuban life."
Bishop also stated that having the opportunity to go to a fast food restaurant or grocery store whenever she wanted was something she never really thought of until this trip, but she won't take it for granted again.
Allison Hamilton, a rising senor at E&H, became more aware of the disposable habits. "There are times where I think, after not finishing a meal, that I'll just put it in a box and take it home to eat it, and most of the time I just end up throwing it away," said Hamilton. "When that happens, it makes me think that there are people out there who are starving and could really use this.
"It just blows my mind how we can go to the grocery store at any time and get whatever we need," said Hamilton, a mass communications major.
Other students repeated the same mindset that they will never again walk into a grocery store stockpiled with food and take it for granted.
Breiner noted that her experiences in Cuba will always keep her humble in regards to her food situation, but it will make her think of those in Cuba and around the world who struggle just to get a meal a day.
"Most of us (students) eat three times a day; many people around the world would kill to eat that much, and we still complain about food. My life has changed in the sense that I will notice how much we get to eat as Americans," said Breiner.
William Seidel is an Emory & Henry graduate with a degree in mass communications.