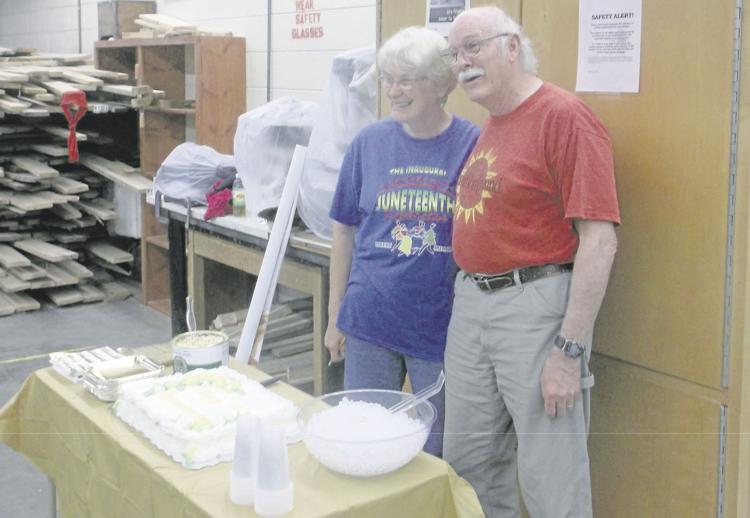 TAZEWELL, Va. — Ellen and Don Elmes thought they were walking into Tazewell Middle School on June 20 to continue working on a community mural but instead found a pleasant surprise.
The couple — one day shy of their 50th wedding anniversary — entered into a celebration in their honor. Volunteers, who have been assisting with the creation of the new mural, surprised them with a cake.
Ellen Elmes is a well-known artist. Her murals grace several outdoor settings in Richlands and other nearby towns. Recently, her first Tazewell work was unveiled at the refurbished train station in North Tazewell. The newest mural will be displayed on the side of the VanDyke building on Main Street.
Before and after the "surprise" Ellen Elmes went about the business of putting together the largest mural she has worked on. Titled "Tazewell: Now & Then," the mural is an initiative of the nonprofit organization, Tazewell Today.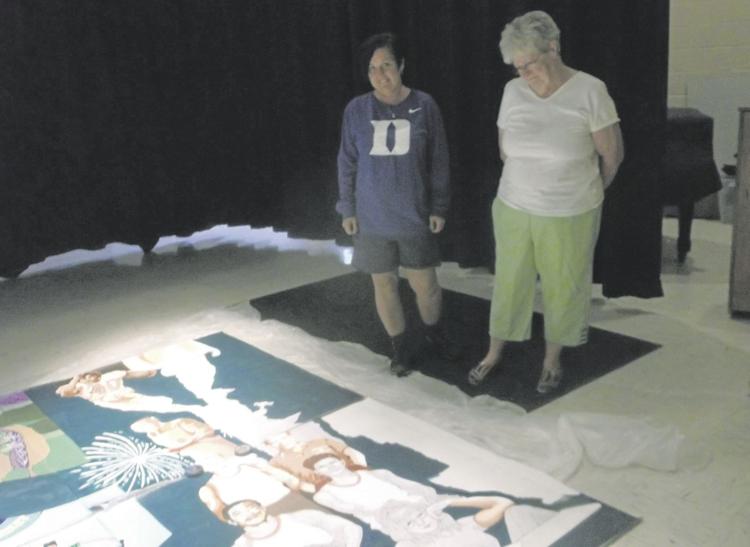 The overall mural design utilizes wide, vertical borders on the left and right sides depicting young people of Tazewell posed as side-by-side "twins" — one from the present and one from the past.
Present day football player Chancellor Harris lines up beside John Rainey, a star from the 1960s. The late Bill Mitchell, who played and coached at Tazewell, is also a part of the mural as is baseball star Billy Wagner, who is depicted pitching to a young boy dreaming of catching the ball.
Other aspects of life in Tazewell are also well represented.
The figurative "twins" of past and present represent a blacksmith and welder; a coal miner with his mule and carbide light; a striding current-day miner with his lunch bucket and methanometer; two female scholars laden with books — one dressed modestly in the past and one flashier today; male and female graduates then and now; and a self-portrait of a present-day trumpet-playing middle school band member and her alter ego from yesteryear.
Sheila Ingram added steam to the project by supplying photos of present-day teens enjoying carefree times on top of The Peak, which will be mirrored in the mural with depictions of youth enjoying the view from on high during the 1920s.
Art students at Tazewell and North Tazewell elementary as well as the middle and high schools and their teachers did a lot of work on the mural under the Ellen's supervision. Since May 20 she has been supervising 3-hour sessions in the evening for volunteers to finish the work. The mural is set to be completed in mid-July.
Terry Mullins, vice mayor of Tazewell, arranged the cake and surprise as a way of showing appreciation for Elmes' work on the project.