Smyth County agricultural pioneer Laura Copenhaver is slated to be honored with a sculpture on the grounds of the Virginia State Capitol building in Richmond.
Copenhaver, who died in 1940 at age 72, was an early member of the Farm Bureau Federation and served as a director of information.
She was also influential in her mission to help farmers, said Emily Fisher Edmondson, who represents the seven-county Heart of Appalachia region of Southwest Virginia on the Virginia Farm Bureau's board of directors.
A proponent of cooperative marketing strategies, Copenhaver coordinated the production of textiles out of her home, Rosemont, and hired women to craft home goods using local wool, said Pam Wiley, a marketing manager for the Virginia Farm Bureau.
"She was very concerned about the price that farmers were not getting for their wool," Edmondson said. "And she felt that she could do some value-added agriculture, although that was not the term that was used at the time."
Copenhaver bought wool, giving the farmers a better price, and then she worked at using that wool and making products, said Edmondson, 67, who lives in Chilhowie but maintains an 1,800-acre beef cattle farm in Tazewell County.
"She got local people to do this work — women and men," Edmondson said. "She did these wonderful coverlets that were done at the various mills — with old patterns. She did quilts, and she did rugs. ... She really worked at getting these products around the world."
Copenhaver's textiles were sold through a mail-order catalog and attracted customers throughout the United States as well as Asia, Europe and South America, Wiley said.
"She started doing this because of caring about her community and about agriculture and finding a way to use the product and bypass all of the rest of the things ... in going directly from farm to market," said Edmondson.
After Copenhaver's death, her business was incorporated as Laura Copenhaver Industries. It operated until 2012.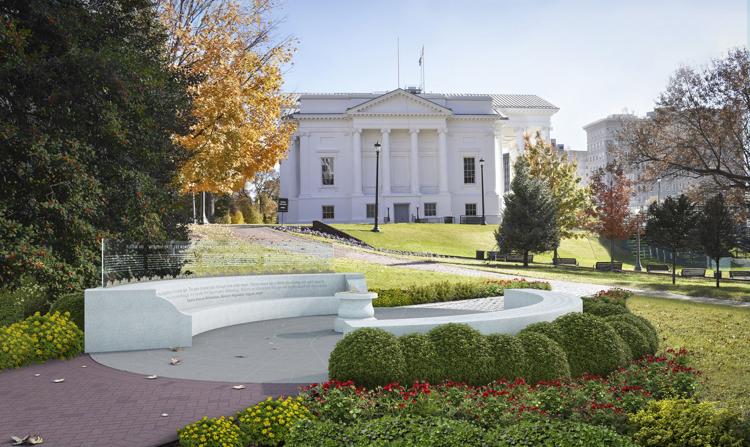 Additionally, according to Wiley, Copenhaver carried on a family tradition of service to the Lutheran Church. Her advocacy inspired the Women's Missionary Society of the United Lutheran Church in America to form the Konnarock Training School to provide elementary-level education for Smyth County children who did not have access to other public schools, Wiley said.
Today, erecting a statue for Copenhaver seems quite fitting, said Edmondson.
"What they wanted to do was have a monument to women on the state capitol grounds," Edmondson said.
The Copenhaver statue will be among the first eight statues to be dedicated on Oct. 14, Edmondson said.
Each bronze statue is slated to cost $200,000 for design, sculpting and casting at "Voices from the Garden: The Virginia Women's Monument," Edmondson said.
The monument is the nation's first monument created to showcase the remarkable women who made significant, but often unrecognized, contributions in a variety of fields and endeavors over the 400-year history of Virginia, said Wiley.
When completed, the monument's 12 statues, along with a Wall of Honor inscribed with the names of 230 women, will help tell the whole story about the diversity of achievement, ethnicity and thought that has shaped the commonwealth, according to Wiley.
Half of the cost of the $200,000 Copenhaver statue, according to Edmondson, was paid for by the Virginia Farm Bureau while the Altria Group contributed $50,000.
And, said Edmondson, "I am so proud of the Virginia Farm Bureau for recognizing the contributions of this woman to Virginia agriculture here in our area and to take those products that she came up with worldwide."