BLOUNTVILLE, Tenn. — Nonstop service to Dallas/Fort Worth International Airport will begin at Tri-Cities Airport on Sept. 4, American Airlines and the Tri-Cities Airport Authority announced Thursday.
The additional flights mean American Airlines passengers will have access to 84 additional one-stop routes from the airport in Blountville, Tri-Cities Airport Director Gene Cossey said in a news release.
The flights will be twice daily. Flights can be booked beginning Monday.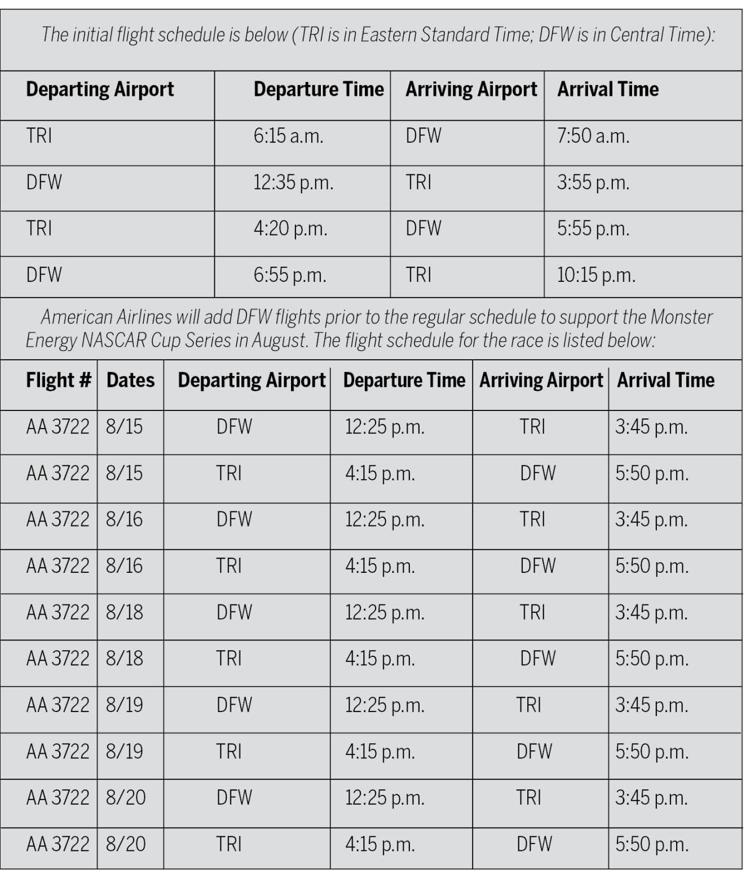 "We are very excited to grow our presence at TRI [Tri-Cities Airport]," said Cedric Rockamore, American Airlines vice president of hub operations at Dallas/Fort Worth International Airport, in the release. "Offering two daily flights from TRI to DFW will help us continue to provide customers in this market an opportunity to easily travel to our largest hub and connect on American to numerous destinations around the world."
Tri-Cities Airport currently offers direct American flights to Charlotte, Atlanta, Orlando Sanford and St. Pete/Clearwater, according to spokeswoman Kristi Haulsee.
"We are thrilled American Airlines has chosen to expand service at TRI by adding twice daily service to Dallas," Cossey said. "The Dallas flights, and continuing our work to increase service, are vital to the region's business and tourism communities."
Tri-Cities Airport Authority Chairman Jon Smith said the region has been asking for access from the airport to DFW International Airport.
"Additional service connects people and economies, making this region an even better place to live, work, and play," he said, in the release.